The ThinkSystem SE350 is an Intel® Xeon® D processor-based server, with a 1U height, half width and short depth case that can go anywhere. Mount it on a wall, stack it on a shelf or install it in a rack. This rugged Edge server can handle anything from 0-55°C as well as full performance in high dust and vibration environments.
The ThinkSystem SE350 is the proven workhorse for the Edge. Designed and built with the unique requirements for Edge servers in mind, it is versatile enough to stretch the limitations of server locations, providing a variety of connectivity and security options and easily managed with Lenovo XClarity Controller. The ThinkSystem SE350 is a rugged compact-sized Edge solution with a focus on smart connectivity, business security, and manageability for the harsh environment.

Information availability is another challenging issue for users at the Edge, who require insight into their operations at all times to ensure they are making the right decisions. The ThinkSystem SE350 is designed to provide several connectivity options with wired and secure wireless Wi-Fi and LTE connection ability. This purpose-built compact server is reliable for a wide variety of Edge and IoT workloads.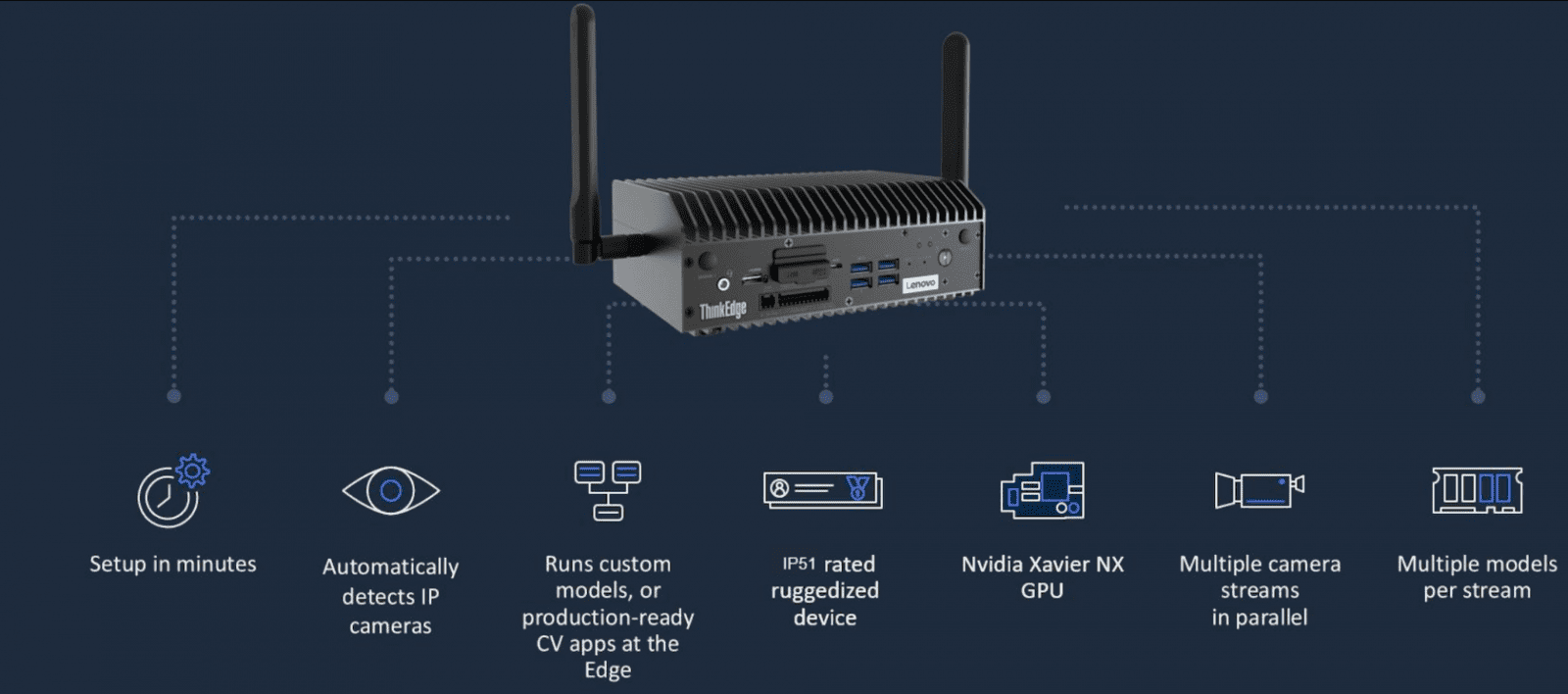 Lenovo SE70
The SE70 is a ruggedized device designed to meet the expanding intelligent transformation needs for a wide range of industries. In security environments -particularly those that require Layered license plate detection or facial recognition- but also in transportation, energy, healthcare, retail and manufacturing the SE70 has you covered.
Lenovo SE30
Available in the smallest possible formfactor the SE30 is an ideal device for AI workloads at the edge. Powered by an 11th generation Intel i5 vPro-processor for industrial computing, 16GB internal memory and up to 1TB storage the SE30 can also be used in edge situations that require 4G or 5G connectivity.
Lenovo Green IT

Together with Lenovo we are unique in our sustainable solutions. No matter packaging, logistics or recycling materials, in every piece of the value chain environment is key. Lenovo is the only vendor which delivers a CO2 offset certificate for our customers to include in its annual reports.
the IDM Solutions advantage
Whether you just want advise, only the hardware or a full service delivery IDM Solutions works closely with Lenovo to provide you with the best possible prices and service.
Reach out to us today for quotes, service requests and availability.